Online Safety
As a National Online Safety (NOS) certified school, Lapal has been recognised for its commitment to helping pupils stay safe online. We take a whole school approach to keeping children safe when using technology and work hand in hand with families to do so.
Technology is essential in 21st century life for education, business and social interaction. As children move up through the school their access to various types of technology increases and it stands to reason that their exploration and curiosity increases too. The positives of the digital world overwhelmingly outweigh the negatives but children, schools and parents all need to be aware of various online risks.
In simple terms, online safety refers to the act of staying safe online. It is also commonly known as internet safety, e-safety and cyber safety. It encompasses all technological devices which have access to the internet from PCs and laptops to smartphones and tablets.
Operating within an online space is something most of us simply do subconsciously, but have you ever stopped to consider the potential dangers which exist on the web, especially for our children?
The recent Ofcom 'Children and Parents: media use and attitudes report 2022' report found that children are more engaged online than they've ever been. Ownership of smart devices is increasing and the range of content they are viewing is expanding.
In an ever-changing world, ensuring pupils' safety online has never been more important. It's an all-encompassing duty and something every teacher and parent must be vigilant of.
We have also been awarded the 360 Safe Online Safety Mark. As a school we reflect on our online safety provision, using a comprehensive matrix to ensure that we are always doing all we can to keep our children and families safe.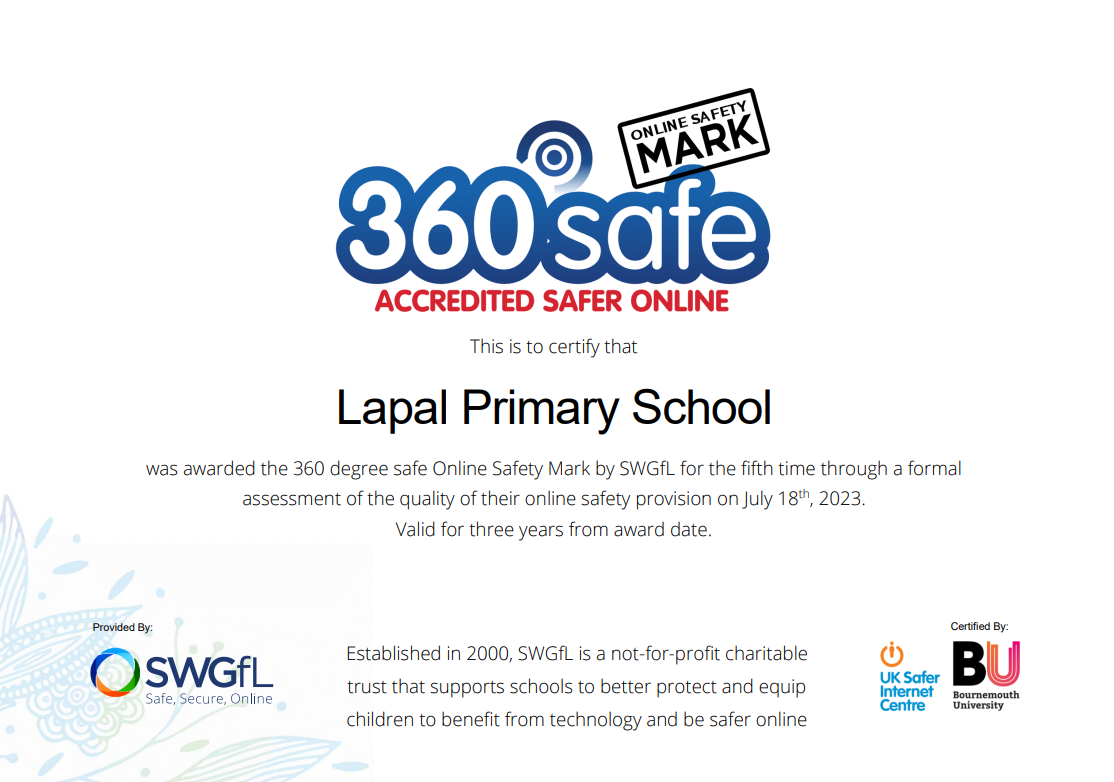 Our online safety curriculum:
We teach online safety in all year groups, with a different focus each half-term across the school. Here is an overview of our carefully-sequenced curriculum.
| | | | | | |
| --- | --- | --- | --- | --- | --- |
| Autumn 1 | Autumn 2 | Spring 1 | Spring 2 | Summer 1 | Summer 2 |
| Self-Image and Identity | Online Relationships | Online Reputation | Online Bullying | Managing Online Information and Privacy and Security | Health, Wellbeing and Lifestyle and Copyright and Ownership |
Our curriculum is supported by Education for A Connected World, devised by the UK Council for Internet Safety, which is a framework to equip children and young people for digital life. It provides us with high-quality, age-appropriate resources and guidance to support children's personal development.

At Lapal we enrol our school's Digital Leaders (part of our pupil leadership team) onto the Childnet Digital Leaders Programme, which is a youth leadership training programme empowering young people to educate their peers about online safety. Lapal are, at the time of writing, in the top 5 schools worldwide on the ChildNet Digital Leaders Programme leaderboard.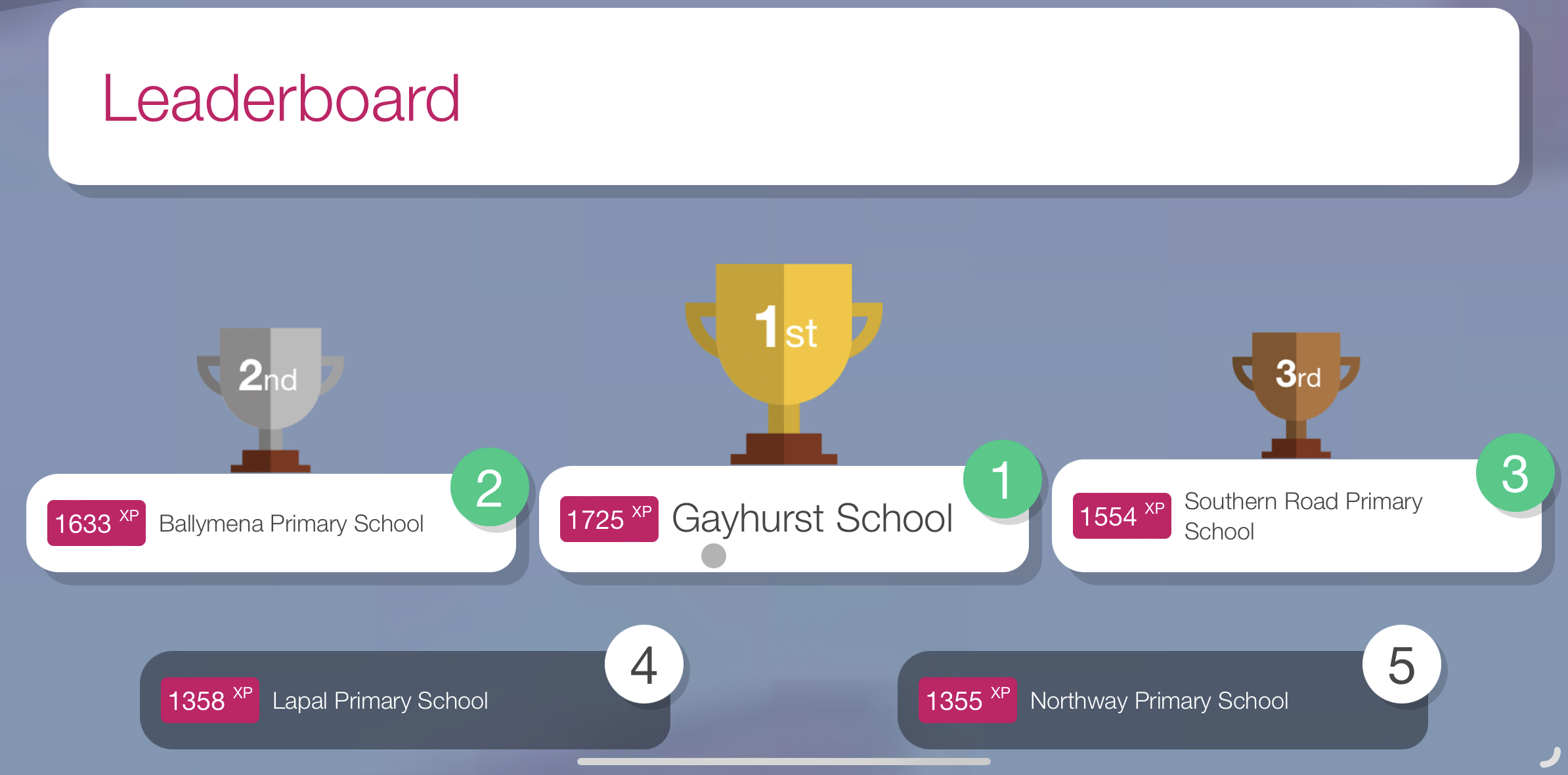 Your help is still needed to prevent children accessing inappropriate material at home by way of filters and parental controls. Look below at our extensive list of links and resources for Parents/Carers, Teachers and Young People to help you with your child's online safety at home.
Parents also play an important role in keeping children safe and for this reason we endeavour to take every opportunity to support parents to understand the risks, the law and how to guide children in the digital world.
We ask that parents:
Endorse (by signature) and adhere to the pupil acceptable user agreements as stated in each child's school planner.
Promote online safety practice by following the guidelines as stated in the Hales Valley Trust Online safety policy. This is inclusive of appropriate use of digital video images and the use of mobile phones.
Only take images of their own children when visiting school to celebrate achievements.
Role model acceptable use with children and teach good habits by limiting screen time and setting parental restrictions and passwords.
Set clear expectations and positive rules together. Have family rules about what is acceptable online and follow PEGI ratings, use age related apps only.
Familiarise yourself with the laws around online bullying and the consequences.
You may find it useful to create an online safety plan for your family, further guidance can be found here.
Establish good habits early on through conversations about staying safe online. In school we teach the SMART rules – this is a good way to start a conversation.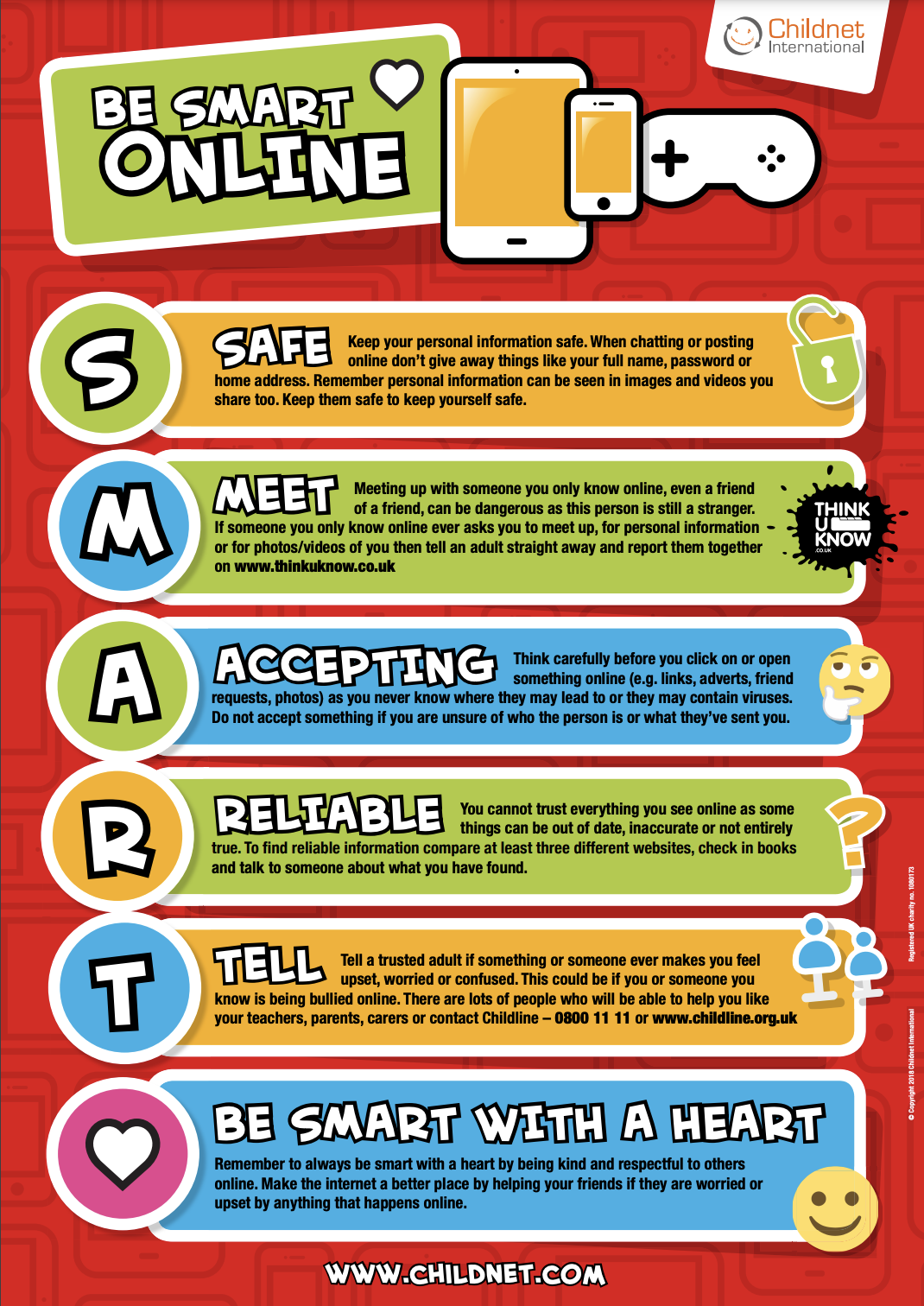 Useful sites to learn more about online safety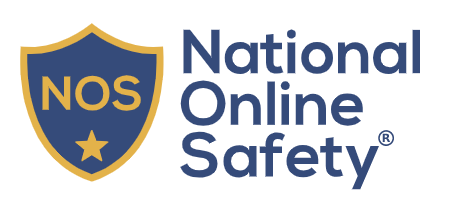 This resources include Parents & Carers courses (some presented by Myleene Klass), online video resources and weekly guides covering a huge range of topics, including:
Online Relationships

Fake Profiles & Social Bots

Online Bullying

Online Grooming

Child Sexual Exploitation

Sexual Harassment & Violence

Sexting

Live Streaming

Online Identity

Screen Addiction

Online Challenges

Overspending

Social Media Platforms

Online Gambling

Radicalisation, Terrorism & Extremism

Age Inappropriate Content

Copyright & Ownership

Hacking

Fake News

Online Fraud

Online Reputation

Personal Data

Pornography

Targeted Adverts & Pop-Ups

The Dark Web

Games & Trends
To create your account, please follow https://nationalcollege.com/enrol/lapal-primary-school and complete your details. When you're set up, you'll be able to set 'Parent/Carer' as your user type.
You can access National Online Safety online via any device- including via our brand-new smartphone app. To download the app, please go to:
https://apps.apple.com/gb/app/national-online-safety/id1530342372
https://play.google.com/store/apps/details?id=uk.co.nationaleducationgroup.nos
Alternatively, search for 'National Online Safety' in the App Store/Google Play Store.
Internet Matters supports parents and professionals with comprehensive resources and expert guidance to help them navigate the ever-changing world of child internet safety.
The National Crime Agency's CEOP Education team aim to help protect children and young people from online child sexual abuse.
They do this through their education programme, providing training, resources and information to professionals working with children, young people and their families. The Thinkuknow website has video guides and conversation starters, including areas dedicated to:
- Professionals working with children and young people
- Parents and carers
- 4-7 year olds
- 8-10 year olds
- 11-18 year olds
This video gives an introduction to Thinkuknow for parents and carers:

The Childnet website offers a range of information and guidance on a range of key online safety topics for:
- Teachers and professionals
- Parents and carers
- 4-11 year olds
- 11-18 year olds
This site has tips, advice, guides and resources to help keep your child safe online.
What to do if you have a concern
At Lapal, we have an open door policy. If you would like to share any information or require any further support regarding online safety please do not hesitate to contact your child's class teacher, a member of Lapal's leadership team or one of our Designated Safeguarding Leads.
If you or the person that you are helping is in immediate danger then call 999.
Below are further ways in which you can see support for your family:

The CEOP (Child Exploitation and Online Protection Centre) logo pictured above is featured on many websites, apps and social media sites. It is the Advice, Help and Report button. Clicking on it will take you to their website, where you can easily follow links for help if you are a parent or child.
This site offers a way to report any images or videos which you come accross when online.

Report Harmful Content can help you to report harmful content online by providing up-to-date information on community standards and direct links to the correct reporting facilities across multiple online platforms. It gives advice, a reporting mechanism and more information to decide when you should go to the police.
Useful guides for parents
We regularly share free online safety guides provided by National Online Safety (NOS) as this is part of our commitment to keeping all children and families safe online. These are sent frequently via ParentMail. You can also access some of those guides below: